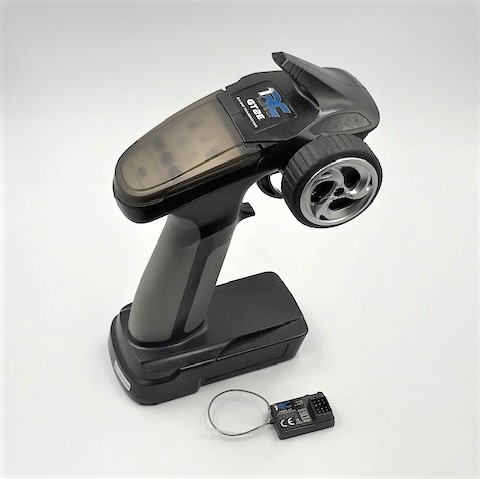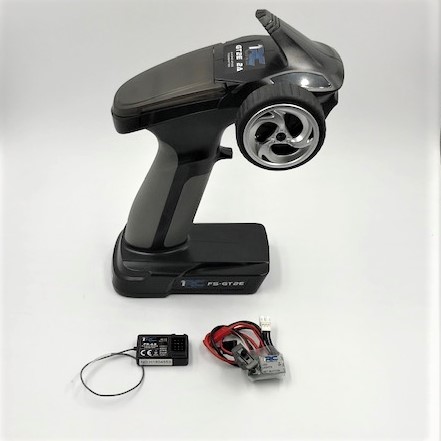 1RC7012 1RC7019
As you have probably seen over the past few months we released a new upgrade radio system for our cars. This new radio system will function much better in those high WiFi environments where the previous radio system had some issues.
The new radio system is still on a 2.4Ghz system but it is on it's own protocol so WiFi routers will not interfere with the signal. The new radio is also a little larger so it will fit peoples hands better as well and also uses AA batteries.
The new radio will only work with the new receiver that it comes with, it will not bind to the original ESC/Rx unit in the original cars. In addition, we have developed a new ESC Only unit to work with the new radio since the older ESC/Rx unit will not work with it. The new ESC Only unit has all the same settings and features as the original ESC/Rx unit.
We have the new radios available in a couple different configurations.
1RC7012 - Transmitter & Receiver, GT2E - This item come with the Transmitter and Receiver as shown above.
1RC7019 - Upgrade Radio Package, 18th Scale - Limited Edition - This item comes with the Transmitter and Receiver and ESC Only unit as shown above.
We are offering a Limited Edition Sprint Car package with this new radio system as well and those are listed on our website under the Car Kits section. The new Midget 2.0 cars now come standard with the new radio system. All new cars we come out with from this point forward will come with the new radio systems as well.
Check these out on website and email us at support@1rc-racing.com if you have any questions on the new radio system. We also have the instructions for the new radio systems and ESC Only units on the website in the Videos/Manuals tab. Also check out videos we have released on both of these as well.

Thanks